Written by Larry Aiello
Friday, 24 December 2010 12:34
Baccala, or cod fish, is a dish that is typical for an Italian Christmas Eve.
Here is a recipe for baccala.
---
Written by Larry Aiello
Thursday, 23 December 2010 02:17
Pictured below are some images from a 7-fish Christmas Eve Italian dinner, or the famous "festa dei sette pesci." This is moreso a tradition in central and southern Italy. The significance of seven is not really known for certain but there are a couple of theories. One theory is that seven is supposed to represent each day of the week. Another theory is that the number "7" relates to the number of Sacraments in the Roman Catholic Church. In any event, it is still a beautiful Christmas Eve tradition for Italians and many Italian-Americans.
If you can not see the video below, then click here!
Written by Larry Aiello
Sunday, 19 December 2010 15:23
A long-time Christmas tradition, especially in Sicily, is to serve the sweet and tasty torrone (literally "big tower").

Legend has it that it was invented for a medieval wedding in the Italian city of Cremona. It was shaped into a tower, to serve as a wedding cake. It is now one of the main industries in Cremona, and it is exported to many parts of the world.
Here is a simple torrone recipe you can use to make it yourself!
---
Thursday, 16 December 2010 02:52
A HOLIDAY GIFT FROM ALITALIA

You have just two days to take advantage of these hard to resist special offers!

Buy your ticket within December 17, 2010 to fly until 31 March, 2011 and visit the most enchanting destinations in Italy, Greece and Israel.

SAMPLE FARES (taxes and fees included)
New York - Milan Malpensa from $ 590 RT
Miami - Milan Malpensa from $ 631 RT
New York - Rome from $ 692 RT
Boston - Venice from $ 711 RT
Boston - Rome from $ 715 RT
Miami - Venice from $ 726 RT 
Chicago - Rome from $ 752 RT
Miami - Rome from $ 787 RT
New York - Athens from $ 806 RT
Los Angeles - Venice from $ 819 RT
Los Angeles - Rome from $ 865 RT
Chicago - Tel Aviv from $ 1,004 RT 

What's more, book now and you'll get an additional $10 immediate discount on every ticket purchased on alitalia.com/US_EN.

Purchase your ticket by December 17, 2010 for departures by March 31, 2011.

To claim your $10 discount, choose your destination, type in the e-coupon code BUONEFESTE when asked and press the "Reprice" button. The final price will be automatically discounted.

The e-coupon can be used more than once within the validity period.

Ecoupon code BUONEFESTE is valid for purchases made on Alitalia.com/US_EN web site by December 17, 2010 for transatlantic itineraries departing from the United States to Europe and Italy, commencing no later than March 31, 2011.

Sample fares displayed above include all taxes and fees and are valid only for tickets purchased on alitaliausa.com. A $30 service fee applies for paper tickets purchased at a local Alitalia ticket office.
---
Written by Larry Aiello
Wednesday, 15 December 2010 01:57
A popular Christmas-time tradition in Italy is to make some vin brulè, or mulled wine, especially on a cold winter's night.  It is actually popular all throughout northern Europe. In France this warming winter beverage is known as vin chaud, Germans call it Glühwein. The Swedish name for it is glögg.

Besides being able to warm you up nicely (brulè, in fact means burnt), it is also known to have therapeutic qualities.  Many people swear that it can help you combat the common cold. 

Here's what you will need to make vin brulè

Red wine - 1 (750-ml) bottle, should be dark red, and full-bodied
Sugar or honey - 3 to 5 tablespoons
Cinnamon sticks - 2 to 4
Cloves - 4 to 6
1 Orange (peel)
1 Lemon (peel)

You can vary the ingredients above to suit your tastes.  You can eliminate the lemon, or orange, etc. 

Peel the orange and the lemon.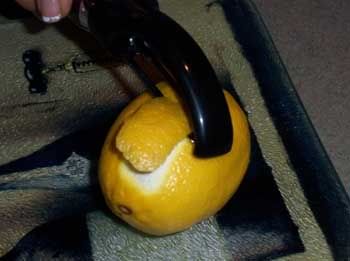 Avoid using the whites of the peels, as it will give it a bitter taste.  Pour the wine into a pot.  It is also best to freshly grind the cinnamon and cloves.  Pour in the sugar or honey.  Prior to turning on the heat, stir all the ingredients together until the sugar is dissolved.  Slowly bring to a simmer over a low flame. Do not boil. Cover and let steep on a very low flame for about 15 minutes. Strain, ladle into mugs and serve.  Can be served warm or cold.  Best served in ceramic mugs. 

Swedish variation (Glögg): Drop a couple raisins and a slivered almond (or two) into each glass before pouring in the wine.
<< Start < Prev 31 32 33

34

35 36 37 38 39 Next > End >>


Page 34 of 39