Written by Larry Aiello
Wednesday, 15 December 2010 01:57
A popular Christmas-time tradition in Italy is to make some vin brulè, or mulled wine, especially on a cold winter's night.  It is actually popular all throughout northern Europe. In France this warming winter beverage is known as vin chaud, Germans call it Glühwein. The Swedish name for it is glögg.

Besides being able to warm you up nicely (brulè, in fact means burnt), it is also known to have therapeutic qualities.  Many people swear that it can help you combat the common cold. 

Here's what you will need to make vin brulè

Red wine - 1 (750-ml) bottle, should be dark red, and full-bodied
Sugar or honey - 3 to 5 tablespoons
Cinnamon sticks - 2 to 4
Cloves - 4 to 6
1 Orange (peel)
1 Lemon (peel)

You can vary the ingredients above to suit your tastes.  You can eliminate the lemon, or orange, etc. 

Peel the orange and the lemon.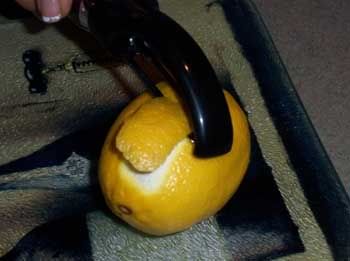 Avoid using the whites of the peels, as it will give it a bitter taste.  Pour the wine into a pot.  It is also best to freshly grind the cinnamon and cloves.  Pour in the sugar or honey.  Prior to turning on the heat, stir all the ingredients together until the sugar is dissolved.  Slowly bring to a simmer over a low flame. Do not boil. Cover and let steep on a very low flame for about 15 minutes. Strain, ladle into mugs and serve.  Can be served warm or cold.  Best served in ceramic mugs. 

Swedish variation (Glögg): Drop a couple raisins and a slivered almond (or two) into each glass before pouring in the wine.